Reservoir Rendezvous
Next meet is planned for July 13-14, 2019
with setup and practice on windy Friday
racing on Sat and Sun
Many show up Friday early afternoon  to get in a practice session and most others show up Friday evening and to get their camp tents set up.   Luck has it that Fridays are very windy short boarding days!    Google Map to Reservoir 
Usually the fun family windsurfing  crowd outnumbers the racers 3 to 1.  So come and join one of Ohio's largest gathering of windsurfers!
For more information regarding the New London Reservoir and campground reservations you can contact:
Phone 419-929-8609 – Park Office
E-Mail: Nlreservoir@Hmcltd.Net <nlreservoir@hmcltd.net>
Please note park fees  subject to change:
There will be a daily launch fee of $5.00 for windsurfers payable to the park.   You will only be charged for one board even though you might have three on your roof rack .. as they know you can only use one at a time 🙂
There is an general park admission fee of: $ 2.00 per person each day.
People who are camping won't have the board admission fee. camping fee  estimate:
$20.00 for two per night for tent camping-primitive
$30.00 for two per night for water-electric
$35.00 for two per night for full hook up as always 3 and under is free
Weather permitting (dry ground) tent and trailer/RV primitive group camping is permitted right next to the water at the event site.   Most people set up camp on windsurf pointe.      There are showers and restroom facilities in the main campground area a short walk away.
2010 Results and Regatta Fun Report
2011  Results and Report ..  Fun Pictures
2012 Results and Report
2013 Results and Report 
2014 .. sorry due to web site problems results and report not done, but as usual it was a great fun event!
2015 Results and Report    at   https://mowind.org/wp/?p=2423
2016 Results and Report   at  https://mowind.org/wp/?p=2534
2017 Results and Report at    https://mowind.org/wp/?p=2653
 
see MOWIND Calendar for event date and contact information.
Date: Usually held mid-July
Location:  New London Ohio,  which is about 75 miles east of Toledo.   Event held at the New London Campground park and Reservoir. From Toledo it's about less than a 90 minute drive .. east on  Turnpike 80, get off at Route 4,  head south 6 miles to US 20/18 .. take that east to Route 250, then down 250 about a dozen miles to second road on left past Route 162 east  which is Town Line Road 187 ( just before a bridge – there are busy train tracks a short ways down it!)  ..   take that country road  about 1 mile to reservoir - continue along the big mound,  turn left on Euclid road, go half mile to campground entrance.
Host organizer: Carl Rapport a
Resources: New London Campground Web site,    lake fishing map, 
History:  2010 was the inaugural year for this windsurfing regatta and gathering.   The reservoir is a 220 acre inland lake with an  intimate campground on the water which  makes for a fun weekend.   The campground also offers six primitive cabins with AC for those who don't want to tent camp. This site is an especially great spot for entry level windsurfers to test their skills.   Even if you don't plan to race come on out, rig a sail and hang out on the water for the afternoon!  The Friday pre-vent practice day has seen great winds!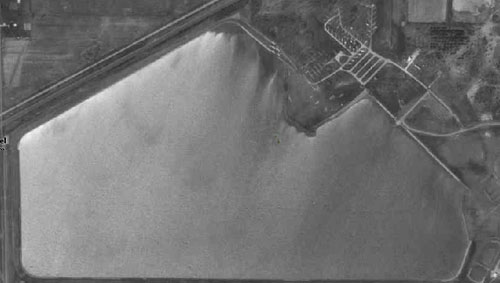 Above is an aerial view of the site.  You can see the campground on the upper right and windsurf point that juts out into the water giving you  good wind to launch in.  A group tent area is also available on the point by the water.  🙂
Photos from 2010 event – click photo for wider view