This page is dedicated to the common resources you will likely need the first day for registration event activities and resources needed to run the skippers meetings, populate the race bulletin board, and cover the race safety portion of the skippers meeting.
Keep a watchful eye on the weather: http://radar.weather.gov/Conus/full_loop.php
CHECKLISTS are important as you prepare in the last few days before the day you go to the event and set up. Things to consider are safety aspects and hand outs for the skippers meeting, registration related items, including event waivers, Marks, computers for scoring, and so on. Below are some resources to make your life a little easier.
REGISTRATION FORM is a dual purpose document in that it registers the sailor for the event and it contains the event waiver. The MOWIND Registration form should be used for ALL SANCTIONED MOWIND events – unless prior approval is granted to use an altered format.    The Word .doc file can be modified to add your event title, fee information and so forth. 
Download appropriate 2012 registration form  for your event:
mowind-2012-registration-form-non-NRT doc 
mowind-2012-registration-form-non-NRT pdf
mowind-2012-registration-form-NRT doc
mowind-2012-registration-form-NRT pdf      
RACE RULES again are needed, this time in hard copy and enough copies of your edited template so that any sailor who needs to refer to them, has them. They MUST also be posted on your Race bulletin Board and noted as the OFFICAL RACE RULES for your event.
CLASS EXPLANATION DOCUMENTÂ  is very useful for newer sailors in helping them determine which class they should enter to compete in. Often they know they want to race, but do not really know which class to sign up for. The document is probably a good resource on the registration table, and possibly a document to place on your web site.
COURSE FLYERÂ  is a REQUIREMENT for your Race Bulletin Board as this will help to define all of the most common race configurations you have chosen to implement during your regatta. A well designed Course flyer should clearly indicate the different courses to be sailed by each fleet during a race using that course configuration.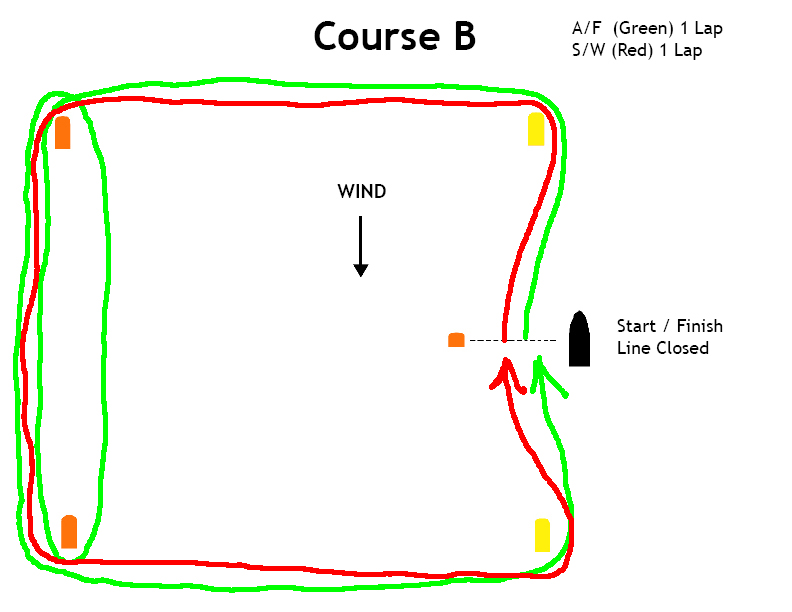 DINNER DIRECTIONS and any ticket sales and  if you are pre-paying for dinner and CAMPING DIRECTIONS should be posted at the registration table AND on your race bulletin board.
Download and use these race course images in your NOR and print and post on your Race Bulletin Board
RACE SIGNALS should be discussed using the actual flags during the skippers meeting, and a COLOR copy of the race MOWIND race signals and MOWIND Race Sequence to be used should be posted on your race bulletin board and discussed well at the skippers meeting.
START SEQUENCE should be covered using the flags that will be used on water during the skippers meeting and a COLOR copy posted on your Race Bulletin Board.
mowind-race-starting-flag-sequence 
Feel free to Download this Flyer, incorporate in your NOR and post on your Race Bulletin Board.