Great Lakes Summer Series
Traverse City, Michigan
2012 dates: July 7 & 21; August 11 & 25Â 
Original Windsurfer boards with sails available .. reserve now ..    Yes there will be a start for non-Original Windsurfer boards also.   email ted@originalwindsurfer.com for more info and details.
The Original Windsurfer handles like no other sailboard: It has a light-weight soft sail that is fast and easy to rig, and that is easy to maneuver; its surfboard-like board that can be tacked and jibed quicker than any other board on the market.  This is a One-Design that emphasizes sailors skills over equipment.  Visit the Original Windsurfer One Design web site to learn more.
To read Ted's blog of the Summer Series regatta's visit http://originalwindsurfer.blogspot.com/
Beginners welcome.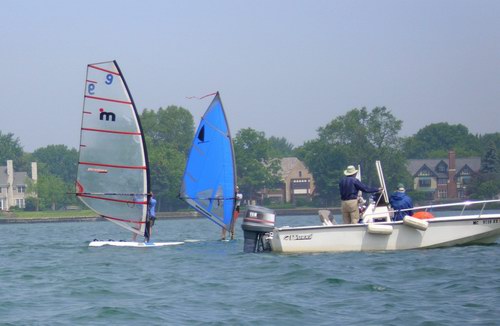 Above an Original Windsurfer battles with a newer Prodigy with a bigger sail at the line during the Grosse Point Windsurfing club regatta.