Six windsurfers battled each other in the Perryburg Boat Club regatta Saturday July 28th on the mighty Maumee River just south of Toledo Ohio.     Winds were a favorable down the river NE direction with light 8 mph breezes and a few rare 15 mph puffs.       Six races were ran in total with a lunch served up by the members of PBC.     The RC ran a tight two start sequence with a starting air cannon that could be heard for miles.     The course was a triangle until Dr. Drag the Mark Glenn Gardner rearranged the windward mark the first three times he went around it .. costing him a chance at winning the event.     Eric  Rahnenfuerher sailed Irene, his hydrofoil with a 9.0 sail and got a second place in the one race that had several good wind puffs.  Eric has been experimenting for years now with the concept and can plane up in really light puffs.   The board he found abandoned in Hatteras after hurricane Irene almost destroyed it.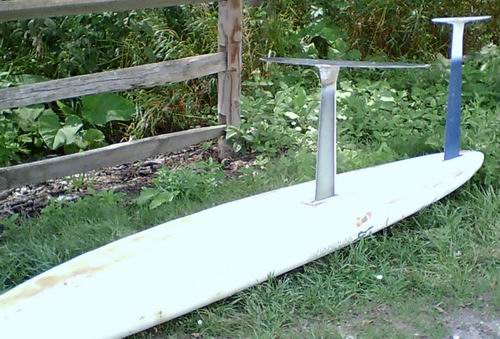 Below Scott Fohey receives his first place flag from PBC Commodore Don Hoste with RC member John Bureau presiding.
PBC will be celebrating 75 years next season.   They have a fleet of Sunfish which was the other division in the regatta.   The Sunfish were start one and with a three minute head start most of them finished before the windsurfers.
Windsurfer Division results:
1 Scott Folhey   (Detriot)
2 Chris Berry   (Perrysburg)
3 Glenn Gardner (Detriot)
4 Scott Haas (Perrysburg)
5 Eric  Rahnenfuerher  (Cleveland)
6 Frank Murray   (Detriot)
Scott #H