A group of One Design enthusiasts attended the 4th Original Windsurfer Summer Regatta Series on Saturday July 30, 2011 at Bowers Harbor in Traverse City, Michigan.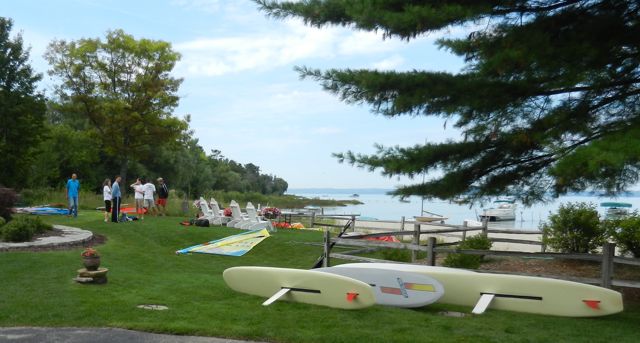 Original Windsurfers were supplied for all entrants along with regatta t-shirt, lunch provided by Boathouse Restaurant, BBQ dinner and wine supplied by J Henry Vineyards.
The morning brought no wind so several people went SUPing on Original Windsurfer boards with SUP paddles provided.
After lunch the wind picked up to 6-9 knots and quickly increased to 15 knots with gusts to 18 knots.  The men in the group declined to use harnesses and decided to hang tight and go "iron-man". The lady of the group saddled up.  Six races were held on a triangle course; a long upwind to weather mark and 2 reaches back to start/finish line. There were some excellent swells and chop to surf on.

The race committee did not allow sailors to hit mark buoys and no pumping was allowed. By the sixth race all sailors had improved their start, upwind boat speed, tacks, jibes and mark rounding ability. For some it was their first time on an Original Windsurfer or their first time in 15 years.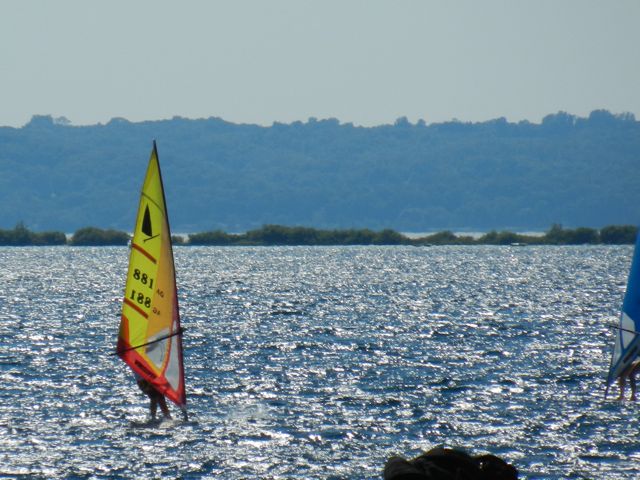 BBQ on the beach was welcome and deserved, and trophies were awarded.
Standing: Randy Bass 1st place medium weights; Alison Rowe 1st place light weight; Paul Sandstrom 1st place heavy weights. Below: Dave Dalquist 3rd place medium weights; Ted Schweitzer 2nd place medium weights. Not pictured: Gary Kosch 3rd place heavy weights; Stephen Wiele 1st place B fleet/Sport fleet.
Visit the Original Windsurfer blog for regatta reports on previous Original Windsurfer Summer Series regattas.