Fourteen experienced racers battled in light winds Sat June 15, 2013 on Lake St. Clair just a mile from the mouth of the Detroit river.   Four races were ran during the morning session, then a pizza lunch break and another long single race after lunch.   The "I" course used was large which made downwind sailing skills a must have.    Gordon Bittle from Columbus Ohio for the second year in a row took fleet and longboard class honors using a 1980's Mistral Superlight I and a 2008 Mistral Prodigy one design 8.5 sail.     Nat Siddal won  hybrid class on a Mistral Prodigy using the Prodigy one design 8.5 sail.    Of note also is that Ted Schweitzer  took 4th in fleet using his Original Windsurfer with it's 6.2 One Design sail besting several others using 8.5 and 9.5 sail sizes.
Missing this year were any novices whose registration fee is waived.  What is so hard about sailing in a circle?   That's what one of the event hosts below "Frank Murray" wants to know.  Come on beginners get out on the course, we would love to see you!
From the course you have a great view of the mansions along lake St. Clair, rumor is that Kid Rock lives just down the shore a bit.    Patterson Park has a magical calming effect on people, it's  the summer spot for local Grosse Pointers to hang out at and kayak, SUP or windsurf from.
The Grosse Pointe Windsurfing Club managed to come up with a nice set of raffle prizes again this year.   Everyone walked away with something.   Below  Nat tries out a raffle chair.   Other prizes included a wetsuit, Dakine mast bag,  Chinook Rig Winch, Aerotech rack pads, and much more.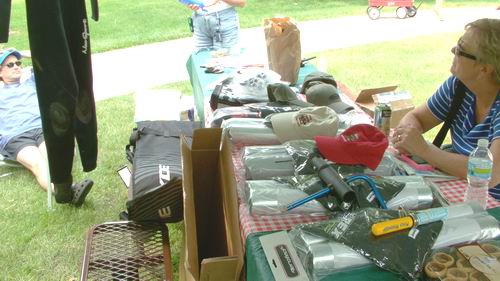 We hope to see a few beginner novice level racers in 2014.    Usually the set up is the A fleet will do two laps and the Novice Fleet just one lap.   There is nothing hard about sailing in a circle.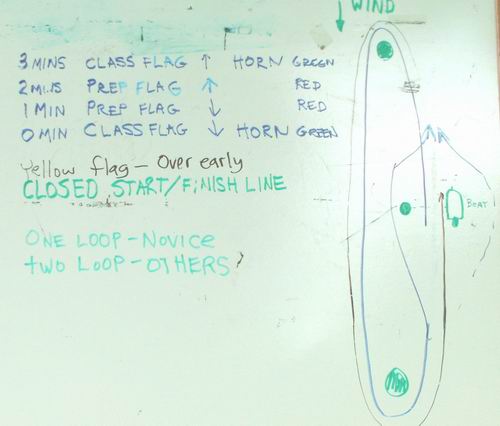 Reporting: #HÂ  Scott Haas